Want to Start Earning Cash Today with Online Surveys?*
Testimonials
Help & FAQ's
About Us
Paypal
Tesco
Argos
Amazon
Dunnes Stores
M&S
Start Here
Sign up for Free

Complete Surveys Online

Get Rewarded!
Earn up to €5 per survey, gift vouchers & free products

Work whenever you want, wherever you want

100% Free to register and take part
Sign Up Now and
Earn Some Money Today!
We promise that your data will be protected - it says so in our Privacy Policy
Earn up to €5 per survey, gift vouchers & free products
Work whenever you want, wherever you want
100% Free to register and take part
How it works
Sign up for Free
Choose from as many of our survey partners as you like – all safe, all free.
»
Complete Surveys Online
Check your email often - you'll probably have some surveys waiting.
»
Get Rewarded!
Earn cash, gift vouchers and more for every completed survey - and spend it!
Paypal
Tesco
Argos
Amazon
Dunnes Stores
M&S
Examples of Rewards
Cash - to spend on things you need, and things you don't
Gift Vouchers - from Amazon, M&S, Tesco and more
Extra Cash - for online focus group work
Free Products - to test and keep
No Spam Promise
We treat your data with confidentiality
We follow the rules of the Data Protection Act
We only send you relevant notifications
You can opt out of this free service at any time
Testimonials
"Great site. lots of surveys and rewards - I would highly recommend it!"
Ciaran Pollard, Dublin
"When I registered with SurveyCompare couple of weeks ago I was a little bit skeptical but now I'm really pleased :) - just spare couple minutes here and at the end of the month you'll be happy with some extra income and vouchers. It does work!"
Matthew Piekarski, Cork
"Definitely one of the best online survey sites. It doesn't look like much at beginning but the numbers really do add up, you'd be surprised at how much you earn after a few months."
Shalom Joseph, Tyrrelstown
"I have recently signed up to Survey Compare and I am looking forward to completing some surveys and getting my first cheque through the mail! I have also been introduced to other survey websites through Survey Compare from which I have received multiple cheques!!!"
Mirian Foong, Dublin
"It's very easy and convenient to make money. It is so enjoyable. Overall a good website :)"
Ryan Porter, Waterford
"The site is very easy to use and there are surveys for everyone. I am really happy with SurveyCompare and all the rewards it has to offer."
Rachael Toland Burke, Bray
"Survey Compare has introduced me to various sites that have allowed me to earn a bit of extra cash. I am a full time student and these paid surveys are such an easy and efficient way to make money in a short time. Thank you Survey Compare."
Con Delahunty, Athlone
"Since registering with Survey Compare I've recieved numerous offers to join survey sites and instantly recieved invites to complete surveys, where after a quick registration I was earning points instantly."
Kelly Byrne, Galway
Help & FAQ
Major companies want to understand what their consumers think about their products and services. To do this they hire survey companies to ask people like you for your thoughts and opinions, in the form of online surveys. We've heard through the grapevine that as well as earning you money, these surveys can actually be pretty interesting too.
To thank you for providing your valuable opinions, companies are willing to reward you with cash, gift vouchers and prizes. You won't get rich from doing online surveys, but if you like to earn extra cash for giving your opinions, you've come to the right place!
SurveyCompare continuously searches for the fairest, most trusted and most rewarding paid survey companies, and lets you easily join them all in one go. There is no catch, and best of all, it's free!
Joining is quick and easy! Just fill in the form above, click "Sign Up and Start Earning" and you'll be off! You will have to select the survey companies you want and enter a few more details to complete the sign up process but when you are done you are ready to take some surveys and earn some cash!
You'll receive emails from the survey companies asking you to confirm your registration – simply follow the links to confirm and get going!
You will now be receiving regular survey invites straight to your e-mail inbox. Perfect.
How many surveys will I be asked to complete?
We can't give you a specific number of surveys you'll receive but on average it is around 5 invites per month for each survey company - however it does depend on the demand the survey companies have for people like you (age and gender in particular). To get more surveys you can join as many panels as you want!
Do I have to pay anything?
No. Not a penny.
We will never charge you for using SurveyCompare, and neither will the survey companies we introduce to you. The market research companies want to reward you for taking surveys, not charge you for becoming a member!
Any website that asks for money in return for surveys should be treated with extreme caution. We are able to offer this service for free as we receive support from the survey companies we recommend, as well as donations.
Yes, this is all online. So, you are free to take the surveys wherever you want, whenever you want.
How much you earn will depend on how many companies you choose to sign up to and how much time you want to spend taking surveys. If you want to earn as much as possible, we advise that you sign up to as many survey panels as you can - you can always unsubscribe later if you change your mind.
Paid surveys can earn you up €5 per survey, as well as more for specialist surveys. Other Survey Companies will also reward you with gift vouchers, points redeemable for cash and entries into competitions. All the information you need about the companies can be seen on our comparison page after you have clicked "Sign Up and Start Earning"
We always tell people that doing paid surveys will make you "pocket money", not a full-time salary - it's enough to earn you enough to treat the kids though, or yourself! We would strongly advise you to stay clear of any websites that claim you can get rich by taking paid surveys.
Cash-paying survey companies normally pay you via PayPal. PayPal, is an online account that is dead easy to set up and allows you to easily and safely receive money electronically. Gift certificates and vouchers will usually be sent by email.
No, this is not a scam. We are a real company - promise!
We provide a valuable and well-established service that connects survey takers with legitimate survey companies. We won't ask you for any money or give out your details and if you're not happy you are under no obligations. If you are still unsure, feel free to give us a ring at 020 7424 3137 during office hours and we'll be happy to answer any questions you may have (and prove that we are real people)!
How does SurveyCompare make money?
We get paid by the survey companies to find people like you to take the surveys. It's a win-win situation!
Yes, you have our word that your details are safe.
We will never give your data to third parties without your consent and you are free to unsubscribe from survey invites from any of these companies at any time.
No. There are no contracts and you are under no obligation with us or any of the survey companies. You can easily unsubscribe from survey invites by clicking the 'unsubscribe' link which you will find at the bottom of the email invites you receive - although if you do, we would be sad to see you go.
If you are 16 or above, you can join any of the paid survey panels on offer. However some companies have a minimum age as low as 13 or 14 – you can find out which ones when you are choosing the survey companies.
Should I join SurveyCompare today?
YES!
We know this question is a bit cheeky, but really, give it a go and see for yourself!
Can I give SurveyCompare some feedback?
Yes please! At SurveyCompare we love hearing from our customers.
Please feel free to drop us an email at info@surveycompare.net if you have any ideas as to how we can improve our site or to let us know about your experience with online surveys. And if you fancy having your own little piece of our website, send us a testimonial and we may pop it up in our 'What Our Users Think' section.
What if I have more questions?
We are more than happy to answer any other questions you may have, or hear your feedback or suggestions about our website. Just send us an email to info@surveycompare.net and we'll be happy to help!
About Us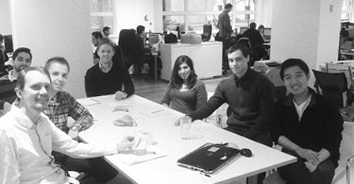 Our Team
Welcome to SurveyCompare: we find the most trusted, fairest, paid survey companies out there and bring them together in one free service. Our SurveyCompare team specialise in connecting high quality panellists (that's you) with market research companies. We have been doing this very successfully for almost three years and are proud to be known for the reliability of you - our panellists - and the high standard of survey companies we work with.
Our secret is simply: our panellists want to complete surveys. We don't over-promise, we just tell it straight so our community know exactly what to expect, and we give them no one but the best companies to take surveys from.
As well as our environmental responsibility – very little is wasted: we recycle all paper and plastics, and refurbish all computer hardware for reuse – we take the initiative with social responsibility wherever we can.
In the three years we've been working together, the SurveyCompare team has raised money on almost every one of our many runs, bike rides, triathlons, sky-dives and other athletic adventures. Recent charities we've raised funds for include Honour Village Cambodia, Samaritans, and Lifelites.
Yes, you can earn extra money with paid surveys, but don't be taken in by any website that promises an unrealistic pay-out.
Think of paid surveys as a convenient way to earn spending money. There are survey scammers out there, but SurveyCompare work only with trusted market research companies.
You will never have to pay any of our selected partners: you're the one who's earning here, not them!
We treat your data with confidentiality
We follow the rules of the Data Protection Act
We only send you relevant notifications
You can opt out of this free service at any time
Sign Up Now and
Earn Some Money Today!